Max Feed Distance:
2100mm
Power of Rotary Servo Motor:
850W
Power of Feed Servo Motor:
1000W
Electrial Motor Power:
4kw
Bending Method:
Servo&Hydraulic
Transport Package:
Wooden Package
Max Feed Distance:
2100mm
Power of Rotary Servo Motor:
850W
Power of Feed Servo Motor:
1000W
Electrial Motor Power:
4kw
Bending Method:
Servo&Hydraulic
Transport Package:
Wooden Package
                     
Automatic hydraulic pipe bending machine CNC bender
Product Description
1. Automatic recognition of power in machine and work piece, the processing is both quick and good 
2. Slow returning core, boosted by barrow, imporving the apprearance of the angle. 
3. The whole operation is in the computer, simple, quick and correct 
4. Picturized programming system: draw and modify on the stereo pipe image on the screen, makes the operation simple, quick and correct 
5. Rebound test: comparison test on the features of lots of pipe materials 
6. Single-step debugging function- a careful observe on the deformation of the pipe material during the trail manufacture of dies. 
7. Automatic drawing of the graphics of dies-clear help to develop new products 
8. Over-all inspection: hydraulic/electrical circuit/ driving systems, adsence of phase in motors/inversion, voltage, temperature, oil pressure, and automatically diagnose the troubles 
9. Passwords, keys, working hours/ recordings of quantities, are applied to management of production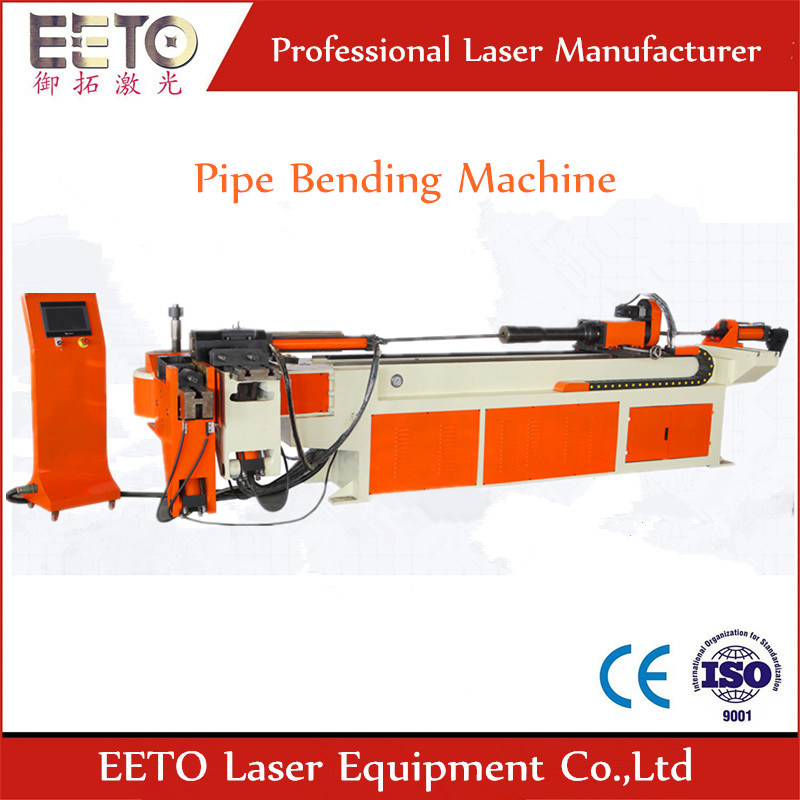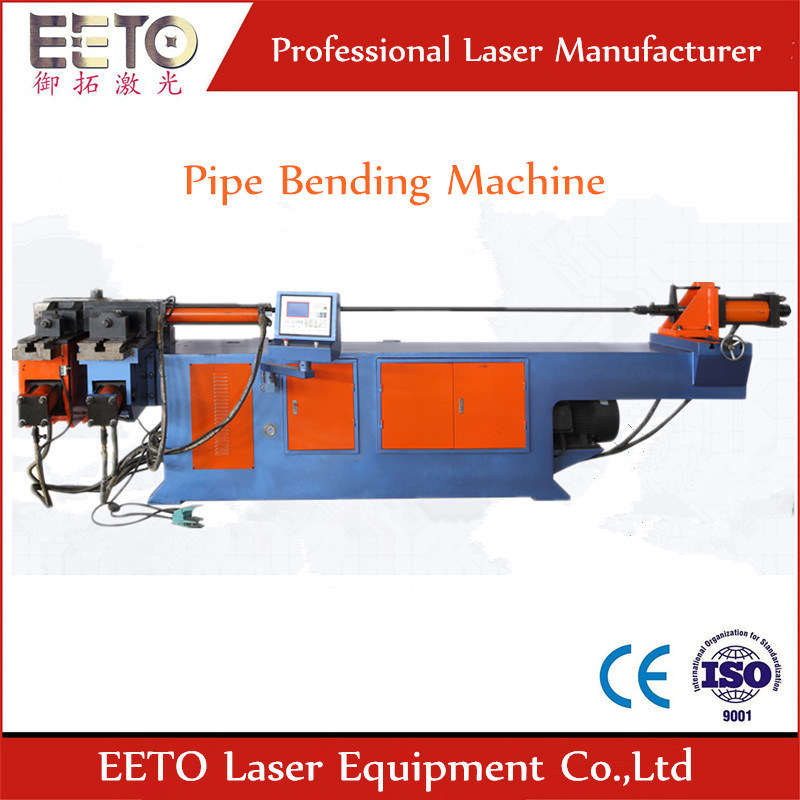 Instructions of CNC pipe bending machine
CNC pipe bending machine seeks excellence on the control aspect. Its characteristics

 

are as following:
1. electric control system: adopts famous controller in Japan,for example, the servo driver, servo
motor ,location mould group ,CPU and so on from Mitsubishi or Yasukawa, which is of high
capability and excellent steadiness.
2. Extra large CPU of Mitsubishi can store 400 groups of file editions. When the storage space is
inadequate, transform software can be installed in the computer and then the files can be stored
in hardware so as to expand edition groups indefinitely.
3. WINDOWS operating system is installed in the industrial computer to match with Mitsubishi
servo system, Therefore, apart from the advantage of Mitsubishi servo drive, it owns the
convenience of file management of WINDOWS operating system. lt can also store the files in
hardware or disk to indefinitely expand edition groups.
4. Function of automatically detecting error and fault, which is displayed on the screen for
operators to cancel the fault easily.
5. All the process documents are inputted by touch control screen.
6. Each bending tube can set compensation value, speed and gap between stripping according to
the variety of different material.
7. Every bending of the tube can separately compile 5 move orders,10 speed matched for
operators'' use. It will improve working efficiency and decrease interfere points of tube pieces.
8. Touch control screen can transform between Chinese and English. Display of other languages
can be ordered according to your demands.
9. Material feeding way can be selected in straight or clip feed according to different needs.
10. XYZ coordinate can be automatically changed into YBC process value.
11. Documents are protected by key to prevent them from being amended by random.
12. Electric system is matched with heat exchanger for automatic cooling. You can also select
numerical control air conditioner to maintain the use life of electric system.
13. lt is equipped with automatic adding oil system to decrease friction between bending tubes,
prolong use life of mandrel and guarantee the quality of bending tubes.
14. The documents displayed on the screen can be printed by connecting a printer.
15.The positions of material entrance, safety, input mould interfere and conduct mould interfere
of material feed trolley can be set by hand and automatically memorized to cancel man
measurement error and loss of machine collision.
16. Material feed axis will automatically detect itself before its operation to avoid the clash with
machine.
Main Mechanical parts
 
NO

NAME

MODEL

Quantity

Origin

Brand name

service

1

A

ir switch

NSD-100

2

France

Schneider

one year

2

A

ir switch

EA9N3D32

2

France

Schneider

3

A

c contactor

D3510

3

France

Delixi

4

Thermal

r

elay

D0910

1

France

Omron

5

Transformer

SG-5000VA

1

China

People Ele

6

Transformer

JBK3-250VA

1

China

People Ele

7

S

witch power

S-200-24

3

Taiwan

Meanwell

8

S

ervo electric system

SGDM -750W

2

Japan

Mitsubishi

SGDM-2000W

Yaskawa

9

PLC (CPU)

CP/H-Y20DT-D

1

Japan

Omron

10

T

ouch screen

MT510T

1

Taiwan

Weinview

11

A

pproach switch

E2A-TL5

12

Japan

Omron

12

Relay

MY2NJ

25

Japan

Omron
Specifications
 
program

     


M

achine type

DW

38

CNC

 

M

in bending R for carbon pipe is:1.5D

Ø

38.1

X

2

t

 
 

M

in bending R for s.s pipe is 1

.5D

Ø

31.7

X

1.5

t

 

Max feed distance

2100

mm

 

M

ax R for bending

175

mm

 

M

ax angle for bending

185°

 

B

ending process for every pipe

16

 

W

orking rate

B

end rate

Ma×

45

°

/sec

 

Rotary rate

Ma×

270

°

/sec

 

F

eeding rate

Ma×700

°

/sec

 

Working accuracy

B

end angle

±0.1

5

°

 

Rotary angle

±0.1°

 

Feeding length

±0.1mm

 

W

att of oil press

electrical

 machine

1

2

mpa

Information inputting method

Axis (Y,B,C)

Bending method

1.Servo 2.Hydraulic

Max bending group

500

Power of

rotary

 Servo motor

850

W

Power of feeding Servo motor

1000

W

Electrical motor power

4

kw

W

eight of machine

2100

kg

S

ize

 L W H(CM)

400

X

110

X

1

3

0

Remark:

The Max length of mandrel of pipe bending machine can according to customers requirement

.

Difference Remark:




2A1S:Rotary servo motor+feed servo motor




4A2S:Rotary servo motor+feed servo motor+bend servo motor+machine-head displacement servo motor(left+righe)





5A3S:Rotary servo motor+feed servo motor+bend servo motor+machine-head displacement servo motor(up+down,left+righe)
Samples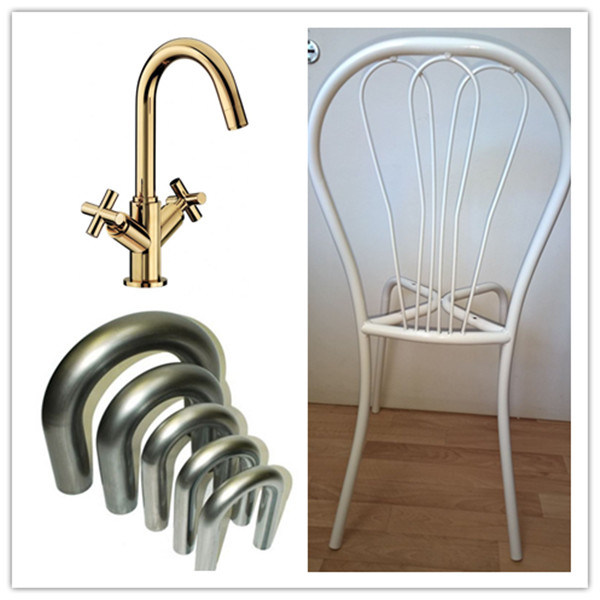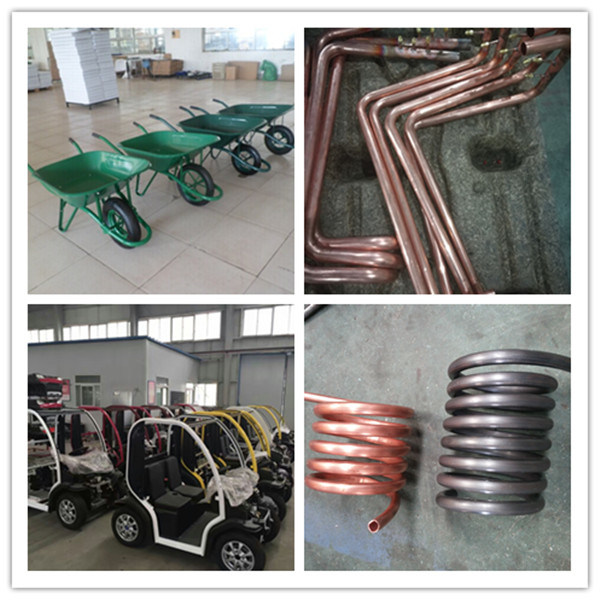 Package and Delivery
1. We have 3 layers package. For the outside, we adopt wo

Gantry Plasma Cutting Machine is mainly used for big size and thick metal sheet cutting work .The Gantry carrying the plasma cutting head back and forth on two parallel orbits with the metal sheet placed in the middle .Because of there is no mechanical structure need ,the gantry type Plasma Cutting Machine could be built into bigger size for cutting width .Because of the same reason ,it makes possible to do as much long as working request for the cutting Length .

Gantry Plasma Cutting Machine

Ce Certification Cnc Cutting Machine,Used Plasma Cutting Machines,Cnc Plasma Cutting Machines,Plasma Cutting Machine For Metal

Jinan Rapid CNC Machinery Co.,LTD , https://www.gildemeistercnc.com