Stator Upper Thread:
3-1/2"
Stator Lower Thread:
2-7/8"
Theoretical Daily Displacement:
60-150 M3/D
Transport Package:
Standard Package
Origin:
Weifang Shangdong
Production Description
    Progressive Cavity Pump (PC Pump) System consists of Surface Drive Device, Downhole PC Pump, Electrical Control Panel and Matching Tools.
Usage:
    PC Pump has been widely used in oil fields at home and abroad and plays an important role in oil production. The PC Pump can be used for low viscosity crude oil, also for heavy oil, high freezing point oil, high wax oil, high sand oil and high gas oil. There is a trend to replace the large heavy pumping units in shallow well and middle-deep well.  
Advantages:
    It has advantages of one-time low investment, high oil production efficiency, low energy consumption, simple structure, and easy operation, installation, and maintenance.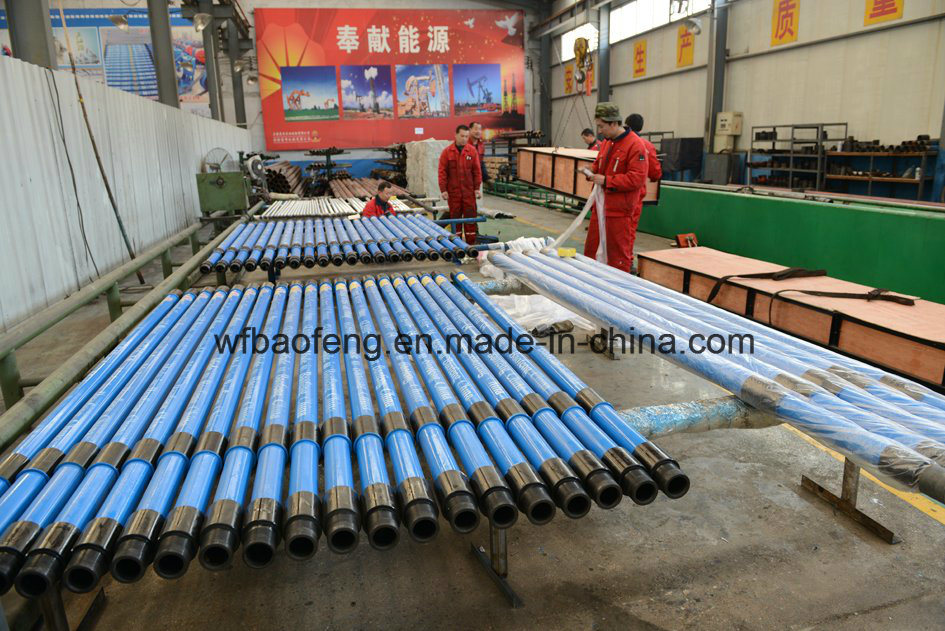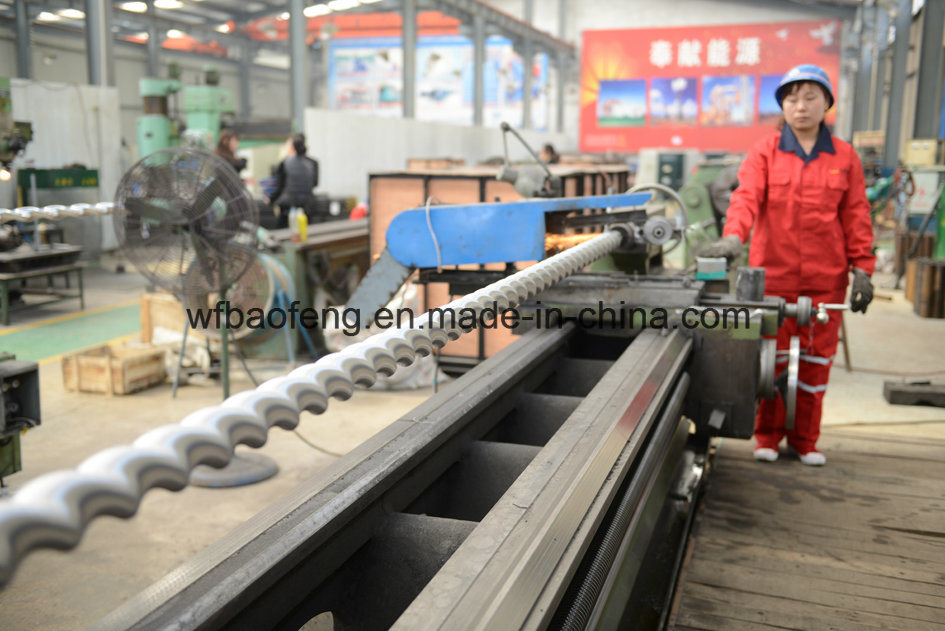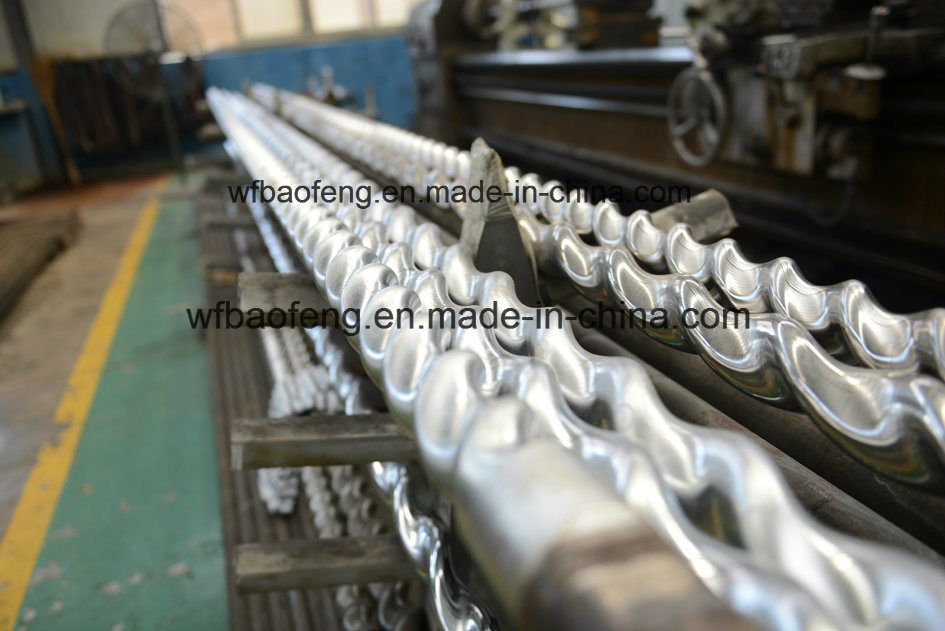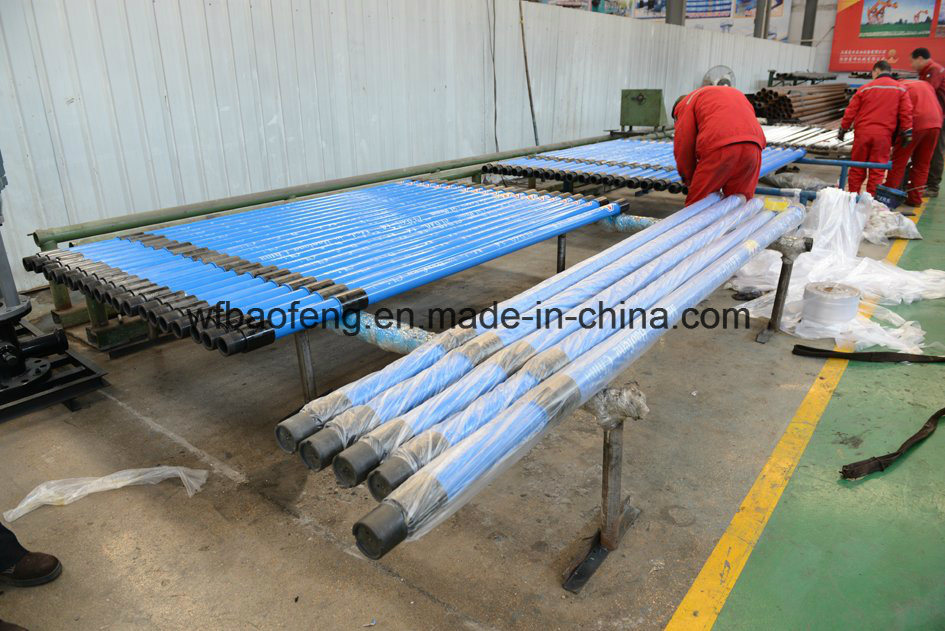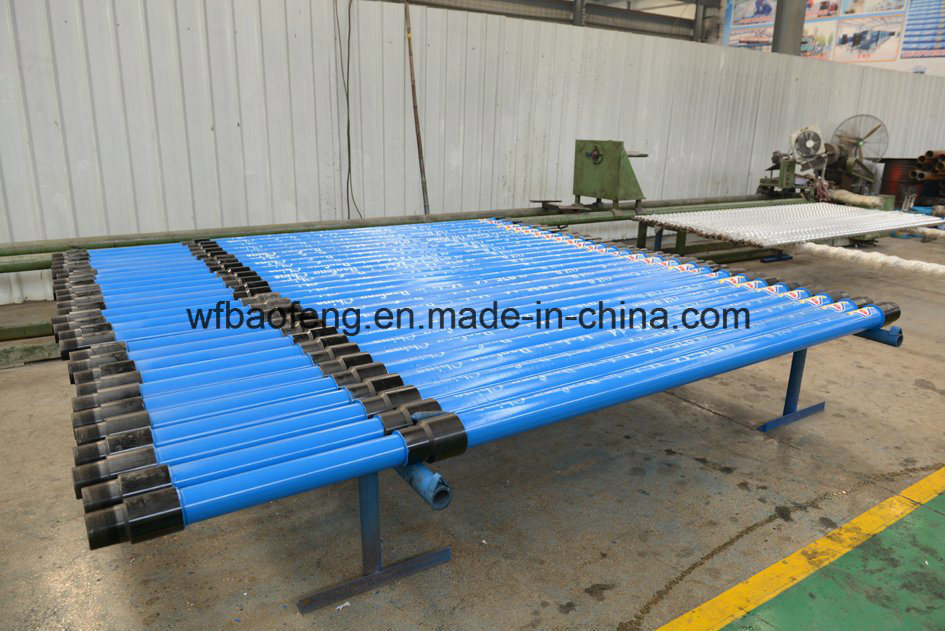 PC Pump Setting Parameters
| | | | | | | | | |
| --- | --- | --- | --- | --- | --- | --- | --- | --- |
| Setting depth(m) | 500 | 600 | 700 | 800 | 900 | 1000 | 1100 | 1200 |
| Lifting distance (mm) | 550 | 650 | 750 | 850 | 950 | 1100 | 1200 | 1300 |
GLB series of PC Pump Parameters



Model

Length




(mm)




Maxi. Diameter




(mm)




Rotor screw




(in)




Stator upper screw(in)




Stator lower screw(in)




Rod rate (rpm)




Theoretical dairy flow(m3/d)




Applicable tubing(in)




Sucker rod(in)

Head(m)

GLB\10/35

2940

90

15/16″

2-7/8″

2-7/8″

60-150

1-4

≥73

7/8″

1000-1400Â Â Â Â Â Â Â Â Â Â Â Â 

GLB\28/40

3650

90

1-3/16″

2-7/8″

2-7/8″

60-150

3-6

≥73

7/8″

1200-1600

GLB\40/12

1550

90

1-3/16″

2-7/8″

2-7/8″

60-150

4-9

≥73

7/8″

600-800

G

LB\40/14

2200

90

1-3/16″

2-7/8″

2-7/8″

60-150

4-9

≥73

7/8″

400-600

GLB\40/21

2330

90

1-3/16″

2-7/8″

2-7/8″

60-150

4-9

≥73

7/8″

700-1000

GLB\40/42

4670

90

1-3/16″

2-7/8″

2-7/8″

60-150

4-9

≥73

7/8″

1200-1800

GLB\50/21

2380

90

1-3/16″

2-7/8″

2-7/8″

60-150

5-10

≥73

7/8″

700-1000

G

LB\75/14

2140

90

1-3/8″

3-1/2″

2-7/8″

60-150

6-15

≥73

7/8″

400-600

GLB\75/21

2200

108

1-3/8″

3-1/2″

2-7/8″

60-150

6-15

≥73

1″

700-1000

GLB\75/40

4410

108

1-3/8″

3-1/2″

2-7/8″

60-150

6-15

≥73

1″

1200-1600

G

LB\120/18

3000

108

1-3/8″

3-1/2″

2-7/8″

60-150

10-25

≥73

1″

500-800

GLB\120/21

2932

108

1-3/8″

3-1/2″

2-7/8″

60-150

10-25

≥73

1″

700-1000

GLB\120/27

4428

108

1-3/8″

3-1/2″

2-7/8″

60-150

10-25

≥73

1″

800-1000

GLB\120/36

5865

108

1-3/8″

3-1/2″

2-7/8″

60-150

10-25

≥73

1″

1100-1400

GLB\120/40

5900

108

1-3/8″

3-1/2″

2-7/8″

60-150

10-25

≥73

1″

1200-1600

GLB\165/35

5650

114

1-3/8″

3-1/2″

2-7/8″

60-150

14-36

≥73

1″

900-1300

GLB\190/33

5650

117

1-3/8″

3-1/2″

2-7/8″

60-150

15-40

≥73

1″

900-1300

GLB\200/27

5650

114

1-3/8″

3-1/2″

2-7/8″

60-150

17-42

≥73

1″

800-1000

GLB\300/21

4850

114

1-3/8″

3-1/2″

2-7/8″

60-150

25-60

≥73

1″

700-1000

GLB\300/26

6000

114

1-3/8″

3-1/2″

2-7/8″

60-150

25-60

≥88.9

1″

700-1000

GLB\300/33

6200

117

1-3/8″

3-1/2″

2-7/8″

60-150

25-60

≥88.9

1″

800-1200

GLB\420/20

4820

117

1-3/8″

3-1/2″

2-7/8″

60-150

35-70

≥88.9

1″

700-1000

GLB\500/14

3380

117

1-3/8″

3-1/2″

2-7/8″

60-150

40-80

≥88.9

1″

600-800

GLB\500/21

5060

117

1-3/8″

3-1/2″

2-7/8″

60-150

40-80

≥88.9

1″

700-1000

GLB\600/18

7122

117

1-3/8″

3-1/2″

2-7/8″

60-150

85-130

≥88.9

1″

500-900

GLB\230/2-30

6200

117

1-3/8″

3-1/2″

2-7/8″

60-150

20-50

≥88.9

1″

900-1200

GLB\450/2-24

6520

117

1-3/8″

3-1/2″

2-7/8″

60-150

39-97

≥88.9

1″

700-1000

GLB\800/2-16

5020

117

1-9/16″

3-1/2″

2-7/8″

60-150

70-173

≥88.9

KG36″

500-700

GLB\800/2-24

7120

117

1-9/16″

3-1/2″

2-7/8″

60-150

70-173

≥88.9

KG36″

700-900

GLB\1200/2-16

6640

117

1-9/16″

3-1/2″

2-7/8″

60-150

103-260

≥88.9

KG36″

600-800

GLB\1400/2-16

7420

117

1-9/16″

3-1/2″

2-7/8″

60-150

120-302

≥88.9

KG36″

600-800

GLB\1600/2-14

7420

117

1-9/16″

3-1/2″

2-7/8″

60-150

138-345

≥88.9

KG36″

500-700

GLB\1800/2-14

7470

117

1-9/16″

3-1/2″

2-7/8″

60-150

155-388

≥88.9

KG36″

500-700

GLB\2500/2-8

7470

117

1-9/16″

3-1/2″

2-7/8″

60-150

216-540

≥88.9

KG36″

400-600

GLB\3000/2-8

7680

117

1-9/16″

3-1/2″

2-7/8″

60-150

260-648

≥88.9

KG36″

400-600

GLB\4000/2-6

7680

117

1-9/16″

3-1/2″

2-7/8″

60-150

430-1080

≥88.9

KG36″

400-600

GLB\75-47/K

5465

108

1-3/8″

3-1/2″

2-7/8″

60-150

6-15

≥88.9

1″

1400-1800

GLB\120-40/K

5900

108

1-3/8″

3-1/2″

2-7/8″

Crushing Equipment,Stone Crusher,Stone Crusher Machine,Sand Crusher

Xinxiang Zhenying Mechanical Equipment Co., Ltd , https://www.beltconveyor.nl